---
Extract Multiple ZIP/ RAR Files with ExtractNow
Sometimes we download lots of archived files in one shot. Extracting them separately by clicking on each file can be time consuming and annoying at times. So what's the solution? How about a multiple archive extraction software? ExtractNow is a one such utility that allows you to extract multiple archives with ease and without consuming much of time. It's not a complete archival solution; its main purpose is to allow the user to extract multiple archives easily.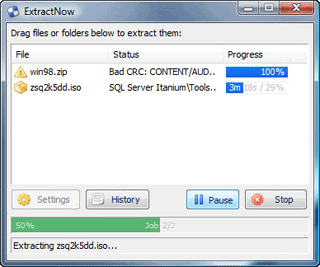 ExtractNow has a clean, well-designed and easy-to-use interface. To extract files all you need to do is simply drag and drop them into the main program window or right-click the files while in Windows Explorer. ExtractNow supports the two most popular compression formats, ZIP and RAR, as well as several other formats like ISO, BIN, IMG, IMA, IMZ, 7Z, ACE, JAR, GZ, LZH, LHA, TAR and SIT. It's extremely user friendly, light on resources and is certainly a powerful and reliable program that will be of use to anyone who manages many compressed files.
In the meantime you would also like to check WobZIP which is an online based archive extractor.
Download ExtractNow (SIZE: 1MB)