---
How to Delete Files Safely making them Irrecoverable
Did you ever think that deleting a private file is safe as it can't be recovered? Then you're wrong! There are several programs out there which are capable of recovering lost and deleted data. Some of them include DiskDigger, Encopy, Recuva, etc.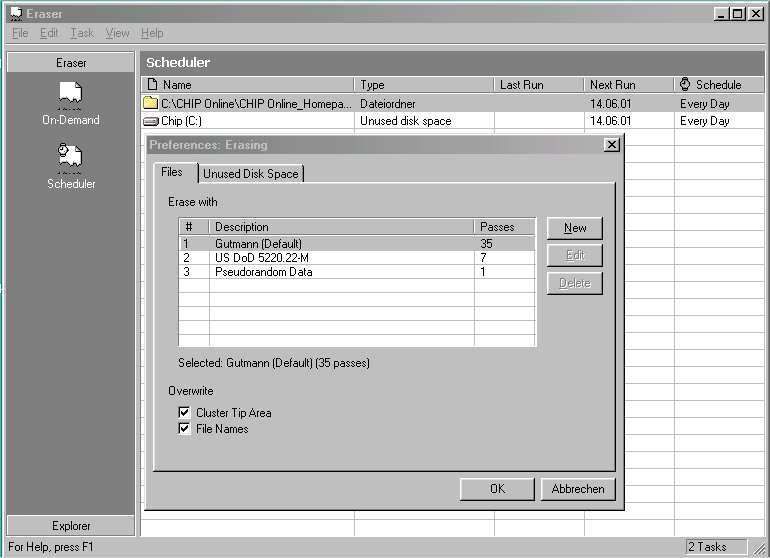 I'm sure a question might have struck your mind, 'How do we delete files securely?' Don't worry, there's a tool known as Eraser which allows you to delete files securely. It makes a recovery softwares job difficult as the files deleted by eraser aren't recoverable. It allows you to completely remove sensitive data from your hard drive by overwriting it several times with carefully selected patterns. This will effectively remove the magnetic remnants from the hard disk making it impossible to recover the data. Sounds impressing? Certainly!
Deleting files securely using Eraser:
1. Eraser has an extremely user friendly interface. To start with deleting a file(s) or folder(s) you need to first run Eraser, you will be presented with the easy to understand interface of Eraser.
2. Now, open any window with the files or folders you want to delete and drag them into Eraser window.
3. Deleting files using the default overwriting method is effective. If you are too paranoid, you can change the overwriting method by going to Edit> Preferences> Erasing. The most secure method is Gutmann, but the deletion process will take longer since the data that you are deleting will be overwritten 35 times before being deleted.
4. To start with deletion process simply click on Task> Run All.