---
Resize Multiple Images with PIXresizer
Sometimes we have a huge collection of photos and images of different sizes, formats and resolutions. It's a difficult task to change them to a uniform format, size, length, width, etc. There are many applications out there which help you to edit images but the biggest drawback is that they don't allow multiple image resizing. Today, I came across an application which isn't like the applications we have come across before! It allows us to resize and change formats of multiple images in one shot. Sounds cool isn't it?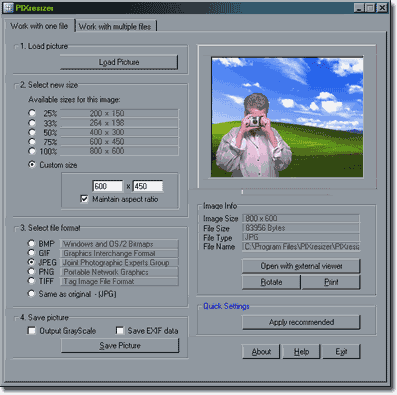 PIXresizer allows you to work with a single file or with multiple files. It can automatically recognize image sizes to calculate the best fit. It supports most of the widely used image formats like JPEG, GIF, BMP, PNG and TIFF. The user interface is simple and easy to understand. To start with all you need to do is select a file or multiple files. Next, select a size and format that you prefer. Lastly, save the converted images by either output to grayscale or EXIF data.
In the meantime you may also like to have a look at 10 Handy Online Image Editors.