---
Download Windows Live Messenger 2009 Final
Windows Live Messenger 2009 is finally out! I know guys it isn't 2009 yet, but looks like MS just rolled it out before year end. It has an all new user interface which most of you will like. Over 200 bugs have been fixed and several exciting features have been added. This version is pretty eye candy, you'll see an all new login screen, conversation window, eye candy icons, etc. Unfortunately, Mess Patch and A-Patch haven't been updated yet to work with MSN 2009 but the Messenger Plus! Live is compatible with this build, but it looks like it's not fully functional. Ok guys, so lets have a sneak into some of its features: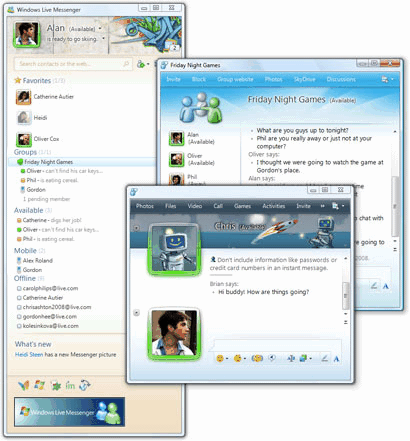 Updated User interface
All new eye candy Sign-in screen
New program/tray icon
Updated e-mail icon showing the number of new e-mails more clearly
Updated Group window header
SkyDrive officially replaces sharing folders feature (Actions > View your online files)
Expanded What's new area shows more details (eg. complete Tweets, added pictures, etc.) and Post a note has been updated for some items
What's new per contact in conversation window
You cannot choose your own signature sound any longer. You can only assign signature sounds to your contacts
Webcam snapshot has been renamed to Webcam Picture
Tile with moods has been renamed to Dynamic Picture
Modify moods, videos and/or pictures of previously made Dynamic Pictures
Change scene option added to status dropdown list
More default Scenes
Updated and new static/animated display pictures featuring the Messenger buddy, Morty and Daisy
Windows 7 Jumplists
Save pictures presented through PhotoShare (Previous photo/Next photo/Save photo)
What's new list options accessible through an icon next to What's new header, or from a button in Options > Layout
Windows Live Messenger 2009 Installation:
To install Windows Live Messenger 2009, you need to first Windows Live Installer. It contains Windows Live products like Windows Mail, Photo Gallery, Toolbar, Writer, etc. You can choose only the Messenger for installation or you can simply install all of them. If you already have the old version of Windows Live Messenger installed, you will see that Messenger is at the lower section that says "This program will be updated".
Download Windows Live Messenger 2009
[via-raymond.cc]