---
Nokia Launches 5800 XpressMusic, its First Touch Interface Phone
Nokia is no doubt one of greatest mobile manufacturer in the world. Well, they have proved this yet again by launching a new cell phone- Nokia 5800 XpressMusic in its line. Its the same Nokia tube which was rumored long time back. Nokia has launched the 5800 XpressMusic in Taiwan as part of the limited number of countries who will get to receive the company's touch screen phone this year. This is the first phone with full touch interface from Nokia.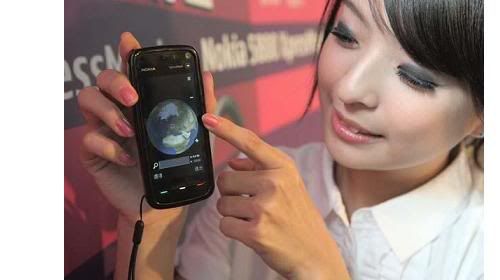 The phone will cost a whopping $446! In addition to this, the price is subject to variation as vendors will bundle it with some kind of promotional merchandise and free gifts, so you can expect to pay about $100 or more.
The phone certainly looks amazing, isn't it? But do you think it's worth for that price? I guess it's pretty expensive. Well looking at its current retail price, both in Taiwan and Spain, the Nokia 5800 XpressMusic might as well be a high-end phone. But Nokia denied saying that it is only intended for the mid-range market. Moreover, I don't think it competes with iPhone if you consider the price but feature wise it certainly looks great.