---
Free NOD32 Antivirus 6 months License
NOD32 Antivirus is no doubt one of the best Antivirus products available at present. It offers you one of the most effective and proactive antivirus software solution to eliminate viruses, spyware, worms, trojans, rootkits and other malware before they attack your system. It was chosen as the best antivirus solution for the year 2006 and 2007. Check out the following report of comparison between various antivirus programs of different companies.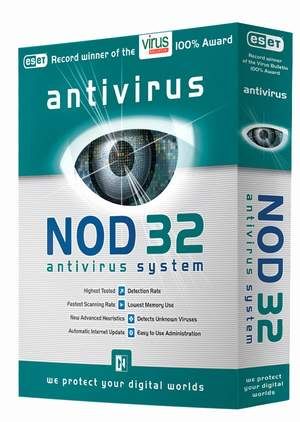 A quick glimpse at NOD32 features:
Proactive Protection: It combines multiple layers of detection protecting you from Internet threats before it is too late.
Precise Detection: It accurately identifies known and unknown threats
Lightweight Design: Requires less memory and CPU power, allowing your computer to run fast, making more room for games, web browsing, and emailing.
Fast Scanning Speeds: Highly efficient program ensuring fast file scanning and product updates. It runs quietly in the background.
Few days back I had written an article on a free BitDefender Antivirus 2009 1 Year License. Ok so if you don't like BitDefender then here's another sweet deal. It's a 6months NOD32 Antivirus license absolutely free! Just follow the below instructions carefully as the promotion is in Chinese.
1. Since it's a Chinese offer, its valid only for people only in China but you can use a Chinese proxy and set it to your web browser. You can try out Roinstrument, It's a good proxy server list website. Look for those with "cn" beside the proxy, it refers to a China proxy server.
Here's how you set your web browser to use the open proxy.
In Internet Explorer: Go to Tools > Internet Options > Connections tab > LAN settings > Check Use a proxy server for your LAN. Enter the proxy address and also the port.
In Firefox: Go to Tools > Options > Advanced > Network tab > Click Settings button > Select Manual proxy configuration and enter the proxy and port.
2. Now go to http://tq.360.cn/trail-c.html. You should see a page which looks like the image below.
Enter the 4 digit code shown in the image and click the button below. Once done you'll get a 24 digit activation code. Make sure that you remove the proxy from your web browser once you've got the 24 digit activation code. The 24 digit activation code has a 5 days shelf life. If you don't activate it within 5 days, the activation code cannot be activated anymore.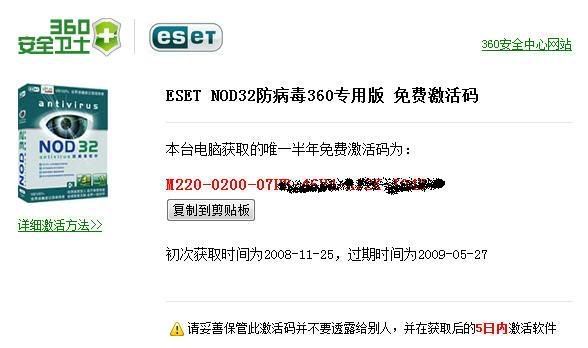 3. Go to Australia's NOD32 website to request for a 1 month trial license. Just enter your email address and hit the Submit button. Check your email and you should receive an email from noreply@eset.sk with the subject "ESET Smart Security – Trial License". Note down the 1 month trial ESET NOD32 Antivirus username and password.
4. Download the latest ESET NOD32 Antivirus from here and install. Enter the NOD32 username and password when requested. During installation, check "Setup update parameters later" when asked to enter your ESET NOD32 username and password.
5. Now download ESET Activation Tool. It is an official program by ESET to activate/convert the 24 digit serial number into a genuine NOD32 username and password. The problem in using the ESET Activation Tool is it verifies your IP address. If you're not from China, you won't be able to convert the 24 digit serial number into a usable NOD32 username and password. You will keep on getting the error message "Activation failed, please try again later. Error Code:62" when trying to activate. We couldn't use China proxy because the tool itself doesn't support using proxy. The solution to this problem is to use either Proxifier, ProxyCap or WideCap to tunnel the ESET Activation Tool through China proxy server. This will make the tool think that we're in China trying to activate the 24 digit serial number.
Extract the downloaded ESET Activation Tool and run essact.exe. Make sure the first option "Activate with Activation Code" is selected. Enter your name, email and the 24-digit activation code. The name and email in the activation tool is not important so you can enter anything. If you got it right, you should see the message "Activation succeeded, the Expiry Date is: 2009-MM-DD"
6. Start NOD32 Antivirus, click the Setup icon on the left hand side and then click Username and Password setup. You should only see the NOD32 username with the password hidden. To view the hidden password, download Asterisk Logger. Extract, run astlog.exe and voila! The password is revealed!
Special thanks to Raymond for finding this offer.