---
Blu-ray Disc Ripper- Rip Blu-ray Movies
Here's an awesome freeware- 'Blu-ray Disc Ripper' which allows you to rip Blu-ray discs. It's portable but requires Microsoft .net Framework 2.0. With this program you can copy, decrypt or backup a Blu-ray Disc with ease. The user needs to enter a unique volume key. The program checks whether the provided key results in successful decrypting. The latest version of the software also helps you to rip Blu-ray discs having multiple CPS Unit Keys. To get a Volume Unique Key for your disc you need to use two softwares known as DumpVID and AACSKeys.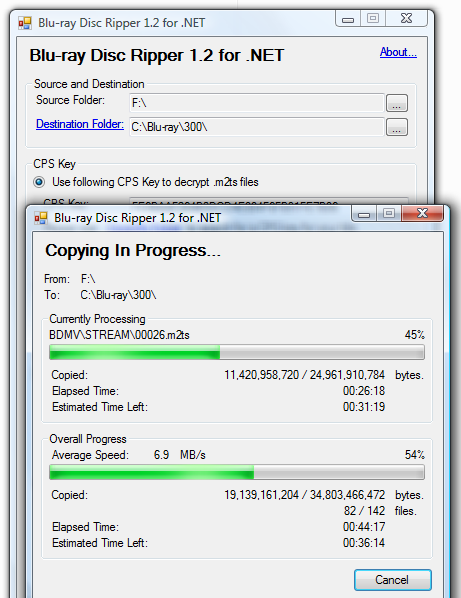 In the previous versions of this software there was a feature which allowed you to remove the Blu-ray Region Code after ripping the movie. But unfortunately in the newer versions of the software this functionality has been removed. Don't worry! There's another program to get this job done. It's known as '
Blu-ray Region Code Remover
'. It removes Blu-ray region code from Blu-ray rips on a hard disk drive to allow playback regardless of region setting of the player. You can use the Blu-ray Disc Ripper to rip a Blu-ray Movie, once done you can use the Blu-ray Region Code Remover to get rid of the region code.