---
Hot Corners- Run Applications by Mouse Movements
I'm pretty sure that all of us have certain number of programs that we launch every day. We need to access such programs quickly at times. Some of you may not like going to your desktop or start menu to launch the app as it may consume a bit of time. Here's a small yet very helpful app- Hot Corners which allows you to launch applications with a simple movement of your mouse. This app not only launches applications but also helps you to Lock/Switch User, open My Documents or any folder, Control panel, start screensaver, search on Google, etc.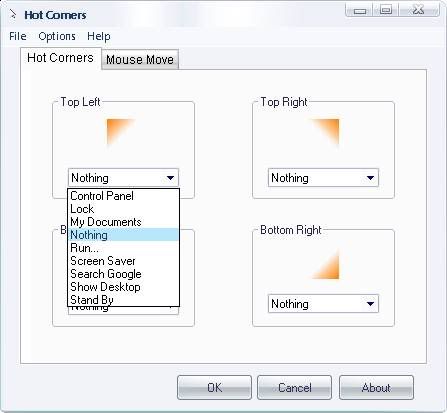 So how it works?
Hot Corners provides you with two cool features. Firstly, it allows you to launch applications or services by simply moving the mouse into one of the four corners of your screen. You can define one action for every corner of your screen. The next feature is similar to above but here the actions can be done by pressing the Windows + X key while moving the mouse.
The software is available for free and works perfectly on XP and Vista. It's written in the Auto It language, so there's a possibility that your Antivirus program may detect it as a Virus. But don't worry it absolutely safe and doesn't contain any Virus.