---
Unlock all Features in Windows 7 (build 6801)
Few days back I had posted a topic which guides you to unlock the Aero shake bar in Windows 7 which was actually locked and protected by Microsoft as the feature wasn't developed fully and had a lot of bugs. But in reality it's not just one feature that's locked, there are several other features too! Withinwindows has come up with a tool known as Bluebadge which unlocks all the hidden features in Windows 7. They include gestures, panning, and Desktop Slideshow.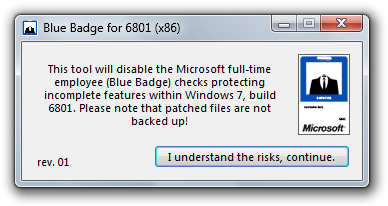 It's a simple patcher which patches the following files:
\Windows\Explorer.exe
\Windows\System32\wisptis.exe
\Windows\System32\ieframe.dll
\Windows\System32\shell32.dll
\Windows\System32\stobject.dll
\Windows\System32\TabletPC.cpl
\Windows\System32\themecpl.dll
\Windows\System32\themeui.dll
\Windows\System32\powercfg.cpl
NOTE: make sure you backup the above files before you run the patcher so that if you want to revert you can easily do so. The patcher will work even if you have patched the taskbar to get the Aero shake bar.