---
How to Enable Aero Shake Taskbar in Windows 7
Windows 7 seems to be making news over the web these days. Even though it's in pre beta stage everyone seems to be downloading it and trying it. Well, there's no harm in trying, ain't I right? And that too trying an operating system like Windows 7 is really cool. If you are interested then you too can try it, the latest build floating over the web is the Windows 7 build 6801. Just Google for "Windows 7 build 6801" and you should find many download links via torrents and other sites. The 32bit version has a size of around 2.7GB.
Well, if you download and install it you'll notice that it has the same taskbar like the one you saw in Vista. But the fact is that they have hidden the real windows 7 taskbar known as Aero Shake as it's not yet complete and stable, you may experience a lot of bugs. If you still wanna have a peak into the new taskbar- Aero Shake then follow the below instructions to do so: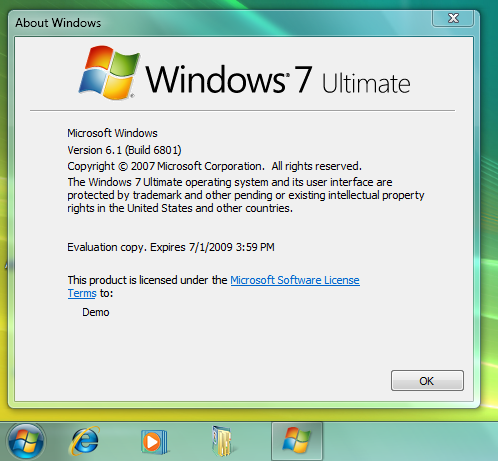 Firstly, Download a copy of the Taskbar Unlock Tool (32Bit or 64Bit) and drop it in your Windows directory.
Now execute the following commands as an Administrator in Command Prompt.
takeown /f %windir%\explorer.exe
cacls %windir%\explorer.exe /E /G MyUserName:F (replace MyUserName with your username)
taskkill /im explorer.exe /f
cd %windir%
Start unlockProtectedFeatures.exe
After changing the protected feature lock state, you can re-launch the shell by clicking the Launch button.
[via- withinwindows]