---
Free Kaspersky Anti-Virus 2009 Key for Everyone
I was too busy these days studying for my exams and hence couldn't continue with blogging, unfortunately I'm still not done with them yet. I just thought of taking a little break and writing something. Next month I'll be free and you'll get to see more content. Well, it's been a long time since I posted about freebies and promotions, I guess it's just about time to do so. I found an article which revealed a promotion through which you can get Kaspersky Anti-virus 2009 9 months key absolutely free! Well, lemme cut it short, so here's how you get the key, just follow the below instructions carefully.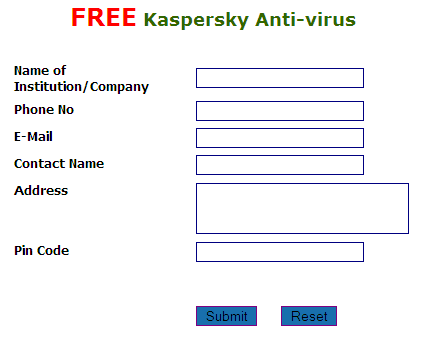 1. Visit the Kaspersky India promotion page by clicking here.
2. Now, you'll find a box with various fields. Fill it by entering your company name, phone number, email, contact name, address and PIN code. You can enter fake info, but make sure you enter a valid email address because your free KAV 2009 key will be sent there. You'll get a confirmation message once the info is submitted.

3. The key may take a few days to come, might even take a week, so please be patient.
This key will be valid only for 6 months. If you want to use for 9 months then register twice for the promotion using different details and get two 6 months KAV 2009 keys. Once you activate you first key, use it for 3 months and then activate the new one because the shelf life of these promotion keys is 3 months. This way you can use Kaspersky Anti-Virus 2009 for 9 months! Make sure that you don't activate both at the same time or you will only get additional two weeks, after your 6 months key gets expired.