---
Backupmate- Backup Orkut Communities
Nowadays Orkut is gaining a lot of acceptance in India. Thanks to the new interface, applications and colorful custom themes that has made it possible. Well, if you're a regular Orkut user then you might be having a community. Just imagine if it's popular and it gets deleted accidently, how would you feel? Well, prevention is always better than cure. Creating a backup would be a great step to tackle this sort of problem. So how do you create a backup of a community? It's pretty simple, there's a program known as Orkut Community Backupmate which helps you to create a backup of a Orkut community. Here's how you create a backup: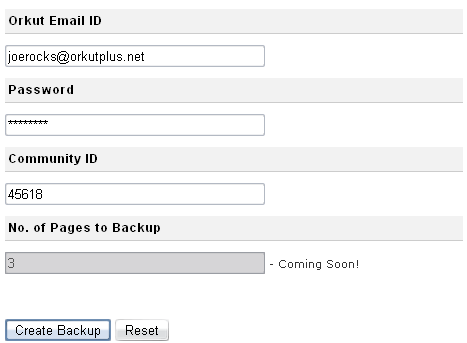 Firstly, click here, you'll arrive at a new page where you'll find get a box which has various fields to be filled.
Fill up the required details, i.e. your orkut ID, password, community ID
Once done, click on Create Backup
Can't find community ID?
If you can't find the community ID then go to the community and look into the address bar, you'll see the community link, for instance http://www.orkut.com/Main#Community.aspx?cmm=45618, in this link 45618 is the community ID.