---
Windows Task Manager Extension
The Windows Task Manager by default provides a good info regarding the running processes but it fails to deliver the information needed to analyze a process. The Task Manager Extension is a plug-in for Windows Task Manager, it expands the basic functionality and gives a powerful control over running processes. It can show process modules, process memory map, used kernel handles, opened files, file properties, and lots of other info.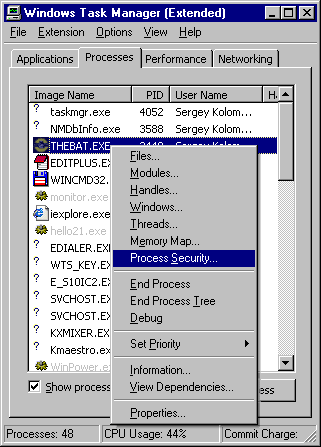 Once you install it, you'll notice a few changes. Firstly, a new column- process ID is added. Secondly, the Windows system processes are grayed out to increase the visibility of non system processes. Thirdly, icons are shown for every process listed which provides for easy identification.
When you right click on a particular process you'll notice various options like- file, modules, handles, windows, threads, memory map, etc. Users can view information about Files, Modules, Handles, Windows, Threads, Memory Maps and Process Security.
Installation:
The Task Manager Extension doesn't need a special installation:
Copy TaskManagerEx.exe and TaskManagerExDll.Dll to any folder on your computer.
Run TaskManagerEx.exe.
Run Task Manager by pressing Ctrl+Shift+Esc or by Ctrl+Alt+Del and selecting Task Manager (on Windows XP, Ctrl+Alt+Del loads the Task Manager immediately).
Download Task Manager Extension