---
Quickly Install Fonts in Windows
If you like to download and try out different fonts in your pc you might get bugged with the fonts installation process in Windows. The default way to install new fonts in Windows is to click on the Font entry in the Windows Control Panel and to select Install New Font from the File menu. But I usually install new fonts by dragging and dropping them into Fonts in Control Panel. I feel it's pretty convenient. Well, if you have saved fonts in different locations then it will certainly take a lot of time to install new fonts.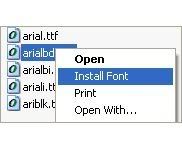 Today, I came across a small Windows app- ClickFont which makes installing fonts easier. It allows easy installation of TrueType, OpenType and PostScript fonts with just two mouse clicks, from anywhere in the system. To install new fonts all you need to do is just right click on the font and select "Install Font".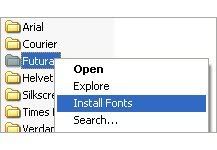 You can also right click on a particular folder with fonts and click on "Install fonts" to install all the fonts in the folder.