---
How to Find out the Time Taken to Load Windows
Here's a small utility known as BootTimer which displays the time taken by a computer to load windows. To check out your computers boot time all you need to do is just download BootTimer and double click on it to run. It will prompt you to restart your computer, click 'Yes'. Now your computer will restart, as soon as windows loads it will display the time taken to load Windows.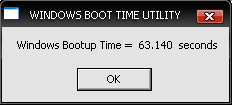 So why do we need such a tool?
It's pretty helpful especially if you want to improve your current boot speed. If your computer is currently slow at loading you can easily find out the time taken and improve on the startup speed by cutting down various applications from loading at startup. As you can see in the above screenshot my boot time shows 1minute and 3secs which is quite a lot. It's mainly due to large number of utilities loading at startup. Well, there are several other factors which affect the boot time like hard drive speed, etc. A boot time of 30-35 secs is quite great. Check out your boot time if you haven't yet.