---
How To: Adding Background Images to Windows XP Folders using Windowpaper XP
You might have noticed that when you open a particular folder in Windows XP the background is white. Well, how about changing it to an image of your choice to make it eye candy and attractive? Cool idea isn't it? Hmm… Certainly, but by default you don't have an option in Windows XP to change it to an image of your choice. This feature was actually available in Windows 98 but it was later disabled in the newer operating systems.
Luckily we have softwares to save us from this cruel world. And here's one of those great softwares, it's known as Windowpaper XP, it allows us to add background images to Windows XP folders. It's user friendly and available for free as well.
Using Windowpaper XP:
1. Start Windowpaper XP, in the right hand side in the first box, select the folder you would like to modify or add an image. You can check the option "include subfolders" to include sub folders as well.
2. In the second box, select an image as the background or select a plain color
3. In the third box select a color for the text. (If the image and the text has the same color then you'll not be able to see the text, therefore you need to change the text color)
4. Once done just click on "Exit".
Note: You can click on "Default" to revert back to default settings.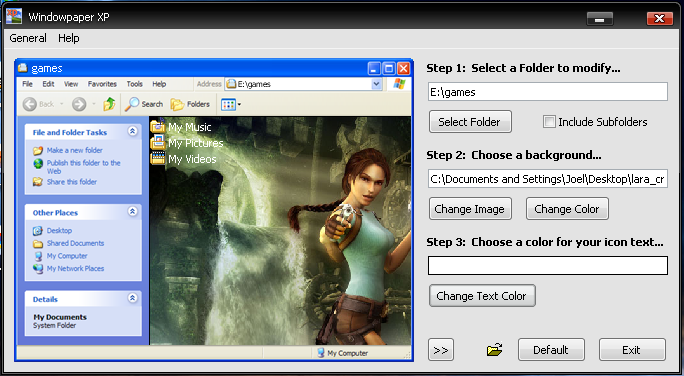 Features:
>Easy to use– All you need to do is just select the folder you wish to modify, your background, your text color, and you're set!
Real-time preview window – Watch your changes happen as you make them!
>Change Folder Color- You can change the folder background color to one of sixteen million supported colors.
>Batch Folder Customization- Check the "Include Subfolders" checkbox and you not only modify the selected folder, but all the folders in it!
>Change Folder Background Shortcut- Without opening Windowpaper, all you have to do is right click any folder on your hard drive and select "Change Folder Background…"
[via-mytechquest]