---
15 Top Alternative Web Browsers
Most of us usually use the default internet explorer installed in the pc to surf websites. But now, days have changed many things have innovated. We must try something different and better. Some of you might not be aware of the fact that there are several other internet browsers out there which are better than IE and offer better features. Well, I'm not saying that if you are using IE you must dump it and use some other browser. I'm just trying to say that you must give a try to something different, you might find it better. Well, I've compiled a list of top alternative web browsers after a thorough study, here they are:
The popular 4…
Firefox:
Most of us already know about Firefox for its great interface and speed. I feel it's a great alternative for IE. It's fast, secure, and fully customizable. There are thousands of Firefox addons there which allow you to customize your browser according to your needs.
Best for: People who like to enjoy a fast browsing experience and customize their browsers
Opera:
Opera is one of the fastest web browsers a present. Opera handles common Internet-related tasks such as displaying web sites, sending and receiving e-mail messages, managing contacts, IRC online chatting, downloading files via BitTorrent, and reading web feeds. Some of the features of Opera include high performance, tabbed browsing, page zooming, mouse gestures, and an integrated download manager.
Best for: Fast browsing, low resource hogging
Flock:
It is built on Mozilla's Firefox codebase, the web browser Flock is as extensible and speedy as its open source cousin. It specializes in providing social networking and other Web 2.0 features built into its interface. It also integrates with popular sites such as YouTube, Flickr, Facebook, LiveJournal, etc to give you access to all their features without having to visit them directly.
Best for: People who are involved in many social networking sites
Safari:
Safari is a web browser developed by Apple Inc. It is the default browser in Mac OS X. On June 11, 2007 Apple released Windows XP and Vista compatible versions. It has most of the necessary features like tabbed browsing and RSS handling. It's standards compliant too, and the lightweight build makes it one of the fastest browsers.
Best for: Windows based Apple fans
Less known browsers…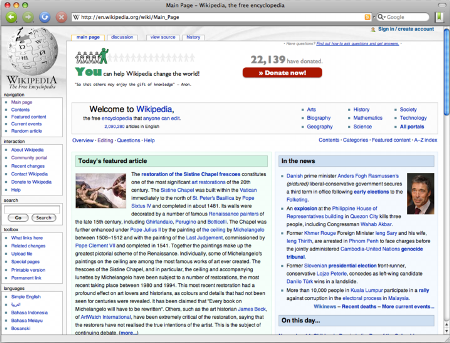 Camino:
It is also based on Mozilla's Gecko layout engine and specifically designed for the Mac OS X. Using the Aqua user interface it integrates a number of Mac OS X features such as the Keychain for password management and Bonjour for scanning available bookmarks across your local network. You can migrate your Firefox data and extend Camino in similar ways, using differences in keyboard shortcuts described on the site. The "Single window mode" feature forces websites that insist on opening new windows to open in tabs, keeping window clutter to a minimum.
Best for: People seeking an alternative for Safari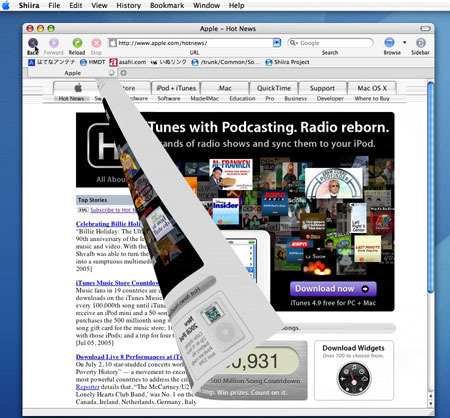 Shiira:
Shiira is a web browser for the Mac OS X. It is has a great design and a very eye candy interface. It is one of the fastest and most functional browsers for users of Mac OS X. It has a page transition effect which works only in Tiger, it allows you to switch between pages as if you were reading a book. The browser also has an option of private browsing which when enabled, stops history and cookies from being recorded.
Best for: Mac users who want something more than Safari and Camino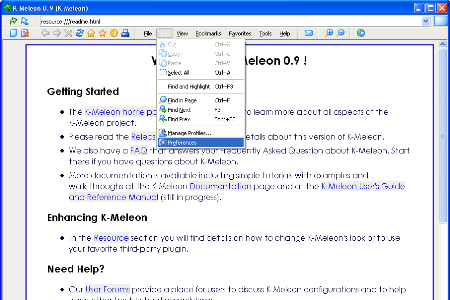 K-Meleon:
K-Meleon is yet another web browser based on the Gecko engine. It uses native Windows API to create the user interface due to which it's tightly integrated into the look and feel of the Windows desktop. If you compare K-Meleon with Flock, K-Meleon is much lighter as it doesn't have additional features like Flock to slow down your pc.
Best for: People seeking a fast and light windows browser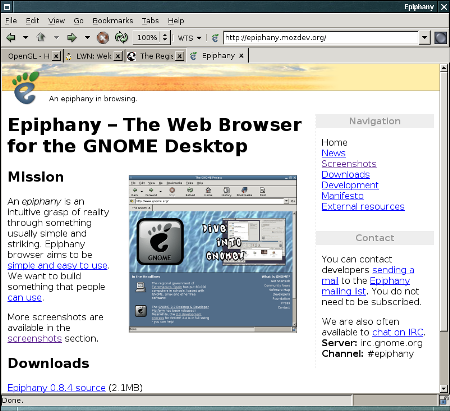 Epiphany:
Epiphany is one of a family of web browsers that use the Gecko layout engine from the Mozilla project. It's mainly designed for the GNOME graphical computing desktop but you can also find one for Mac OSX. The unique feature of this browser is that it uses categorized bookmarks where a single bookmark can exist in multiple categories whereas most of the browsers use hierarchical folder-based bookmark system.
Best as: an alternative for Firefox for the GNOME desktop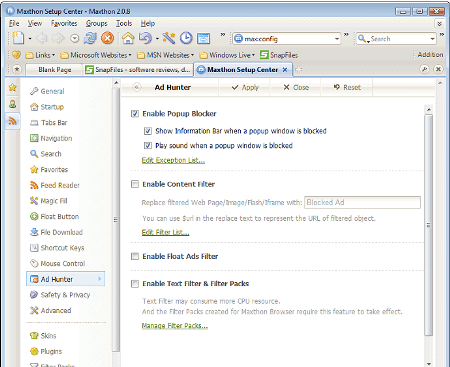 Maxthon:
Maxthon is a web browser designed by the Chinese. It is the second most popular web browser in China. This browser is capable of using both engines, i.e., the Trident layout engine (used in IE) and the Gecko layout engine used in Mozilla. It seeks to provide many rich features and a highly customizable interface, without losing any of the compatibility of Internet Explorer. It is available only for Windows.
Best for: Users who want a Firefox like IE

xB Browser:
xB Browser is designed for use on portable media such as a pen drive but it can also be used on any hard disk drive. The unique feature of this browser is that it provides for anonymous internet browsing. It comes in two versions, i.e., 'fast' subscription-based version and a 'slow' version that uses peer-to-peer networking technology to disguise web requests. This gives you anonymous browsing and email functionality.
Best for: Privacy and security while browsing
SlimBrowser:
SlimBrowser is a tabbed multiple-site browser. It incorporates a large collection of powerful features like built-in popup killer, skinned window frame, form filler, site group, quick-search, auto login, hidden sites, built-in commands and scripting, online translation, script error suppression, blacklist / whitelist filtering, URL Alias. It brings you convenient and comfortable browsing. It's compatible with all Windows editions.
Best for: Users seeking for a feature packed browser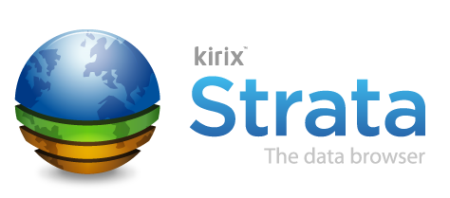 Kirix Strata:
Kirix Strata is a web browser which still in its Beta stage. It is yet another web browser based on the Gecko engine. It allows you to save web content in various formats so that you can access it later. Using this browser you can access and manipulate website data, including web tables, RSS feeds and server-side databases.
Best for: People who work online
Funtime browsers…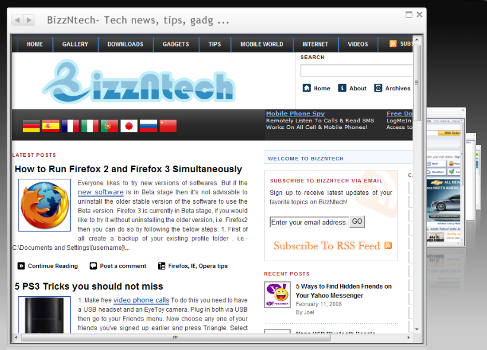 SpaceTime:
SpaceTime is a unique web browser which allows you to browse and surf websites in 3D. It is something similar to the Flip 3D feature in Vista, but this thing is within the browser itself. With SpaceTime you can do a 3D eBay Search, 3D Image Search, 3D Web Search, and even enjoy 3D Tabbed Browsing.
Best for: People who want to browse the web in 3D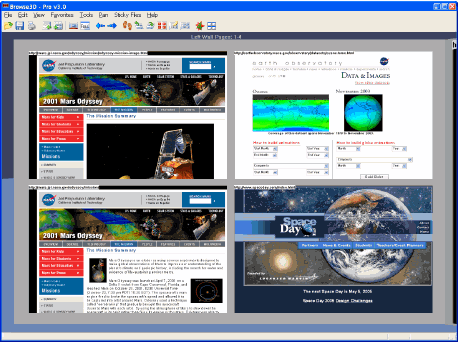 Browse3D:
Browse3D offers users a visual advantage making finding and using web information more productive. It uses the Trident layout engine (used in IE). It provides a graphical three-walled interface for loading and using multiple Web pages simultaneously.
Best for: Comparing two or three pages simultaneously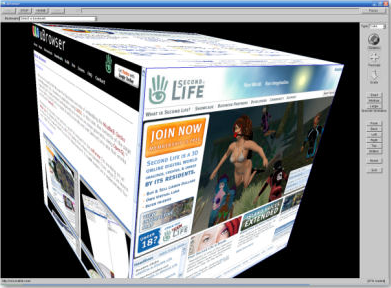 uBrowser:
uBrowser renders interactive web pages onto geometry using OpenGL and an embedded instance of Gecko. You can arrange pages in the form of a cube, sphere, wave, etc. It's not meant for serious web browsers. But if you are interested in some fun time and want to try out something different and unique then you can try out this browser.
Best for: Funtime
Hope you liked the list. Well, If you have any other browser in your mind which you feel should be added to the list, feel free to state it.