---
How to Resize a Non resizable Window or Dialog Box
Sometimes we come across dialog boxes or windows which cannot be resized by clicking on the corner. For instance in Microsoft Hearts window, we aren't able to resize the window. Despite having a maximize button we aren't able to maximize the window as the button is blurred and unclickable.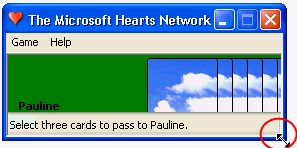 In such a case ResizeEnable application comes handy. It's a system hack which stays in your system tray and resizes windows or dialog boxes which aren't resizeable. To use this app all you need to do is just download it, extract and run. Once done you can move the cursor to the corner of the window to be resized. You'll be able to resize it without any problem.
You can also try another app known as AltMove. It adds more functionality to your mouse for interacting with windows. It's just 336KB in size.
Here are some of its features:
Move Window- Allows you to move window and controls.
Resize Window action- Allows resizing of windows and controls, even if they do not allow it.
Opaque action- Allows you to change opaque of windows
The document work- You can assign key-mouse combination to standart menu items of different programs.
Start your programs- Use mouse to run your programs and open documants from evevrywhere.
Hide and Show action- Allows you to hide windows to system tray bar
Keystroke action- This action can emulate keystrokes you choose.
[via-Raymond.cc]