---
Solar Powered Bra from Triumph
We have seen various kinds of solar powered gadgets and other stuff recently. But the weirdest of all is the solar powered bra! Lingerie maker Triumph International Japan Ltd came up with the idea of creating an environmental friendly bra. Now what does this mean? Well, this bra is capable of storing solar energy for future usage.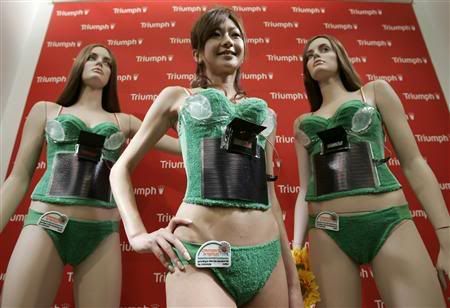 The bra is green in color and features a solar panel which is worn around the stomach. The panel requires light to generate electricity. It's a pretty hot move by Triumph but as usual everything has drawbacks. We won't be able to see one of these very soon as it's not possible to wear clothes over it! And obviously people don't go out without wearing clothes. Well, there may be exceptions though.
"It is very comfortable and I can really feel involved in eco-friendly efforts as well," model Yuko Ishida said.
[via- reuters]