---
Download PC Tools File Recover with Genuine License Key for Free
PC Tools File Recover is a software which allows you to recover important files and documents which have been lost by accidental deletion. Using this software you can recover and restore deleted files from hard drives, floppy drives, and many other types of media. If you want to buy this software it will cost you $29.95. But there's a promotional offer mentioned by Raymond through which you can get it for free. Here's how you do it:
1. Go here and enter your name and email address and click on the 'Request Free License button'. Make sure you don't give a fake email ID because the license key will be mailed to you.
2. Once you're done log into your mailbox and check your email. You should receive an email from PC Tools (sales@pctools.com) with the subject Free File Recover License‏. Note down the Name and License Key.
3. Download File Recover software from here and install.
4. Run File Recover software after installation, click Register button located at the left side of the program and enter the Name and Key which you received from the email.
5. Voila, that's it now you'll have fully functional PC Tools File Recover software.
NOTE: This offer is available till 7th September 2008, so try to get it before it expires.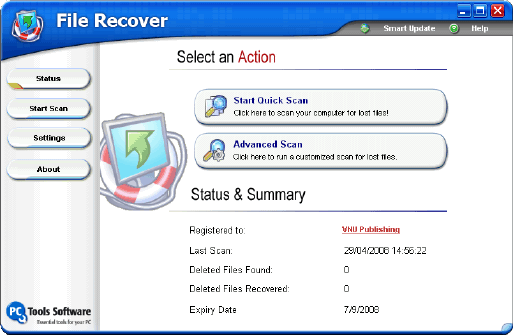 File Recovery Features:
Recovers files instantly from hard drives, floppy drives and other types of fixed media. If you are a home user or a network administrator, File Recover fills a critical gap in your data protection strategy
Rapid scan engine – a typical hard drive can be scanned for recoverable files within minutes
Scan all files and directories on selected hard drives
Search for a recoverable file using part or its entire file name
Utilizing a non-destructive, read-only file recovery approach. File Recover will not write or make changes to the section of the drive from which it is recovering data
Batch file recovery (recovers multiple files in one action)
Works around bad-sector disk areas. Recovers data where other programs fail
Supports standard IDE/ATA/SCSI hard drives, including drives larger than 8 GB
Supports hard drives formatted with Windows® FAT16, FAT32 and NTFS file systems