---
Colorful BIZZ and UFO Bluetooth Headsets from Bluetrek
Bluetooth handset manufacturer- Bluetrek has come up with two new colorful range of headsets- BIZZ and UFO. If you are bored of looking at your black Bluetooth headset, then you can certainly try these headsets, they are pretty colorful. Both of these headsets have 6hrs of talktime.  
The UFO headsets are round weighing just 8g and have a standby of 8days. It features Bluetrek's Voice Alert, which provides audio voice prompts of what functionality can be activated from the headset and reminds you when it needs recharging. They are available in seven designs.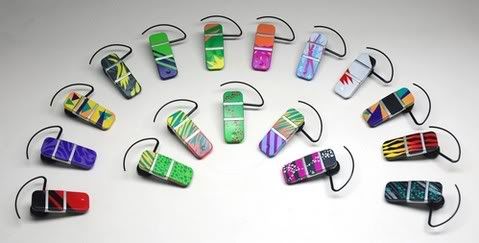 The BIZZ on the other hand weighs 10.3g and has a standby of 10days. It has a USB plug and a microSD card slot hidden underneath a removable cover which enables you to recharge via USB and at the same time you can also use it as a portable storage device.
Both BIZZ and UFO editions are available now. The standard BIZZ is priced at $57 while the standard UFO comes in at around $60.
[via-headsetgazette]