---
How to Unlock and Play Hidden Tetris/Brick Game in utorrent
Most of us use utorrent for downloading torrents as it is one of the best and the lightest software for downloading torrents. As my broadband isn't really fast I usually wait or sometimes I even play a game till the download gets completed if the file to be downloaded is small. Well if you are someone like me who waits till a torrent is downloaded then you can have some good fun playing Tetris in utorrent. Tetris in utorrent? Yeah, you heard it right. I'm pretty sure that hardly a few of us know that there's a hidden brick game- uTris in utorrent! Well, some of the advanced users might know about it, but those of you who don't know, here's how you get it.
Start utorrent and go to Help> About utorrent… to get the above box.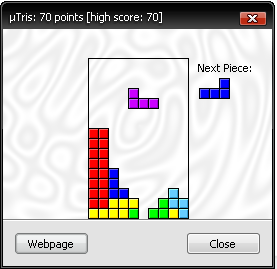 Now press 'T' to get the Tetris/brick game.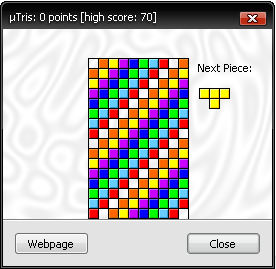 Well there's a cheat as well, just type 'qweryuiopasdfghjklzxcvbnmt' and you should finish the game. Hmm… but why would anyone use this cheat? To win? I dont wanna win 😛