---
Backup Files to your Email using Backup To Email
Nowadays most of the email providers provide us with a lot of storage space. I use Gmail and I have around 7GB of storage space out of which I have hardly used 300Mb. I got hold of a software- "Backup To Email" which helps us to make good use of this vast storage space. Guess what? We can use an email account to backup our files. Moreover we can do it just a single click!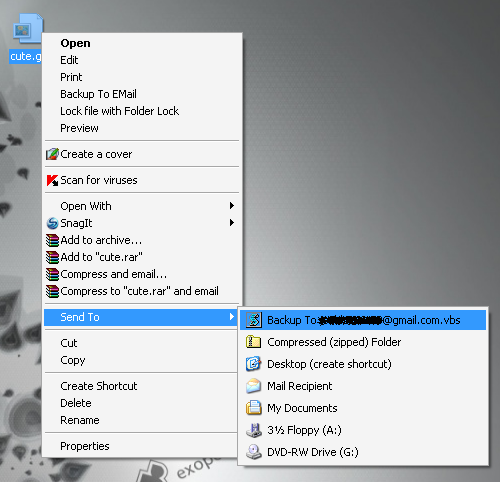 Backup To Email is pretty useful to backup stuff like pics, songs and videos. Well if you lots of space in your account and a fast internet connection then you can even backup a whole movie in to your email account.
You can download Backup To Email from here. It's an .exe, just double click to start the installer. On the first run it will ask you to add your email ID, enter it and click 'Save'. Go to Configuration> Accounts and enter the details of the SMTP server. Check out the video tutorial for more details.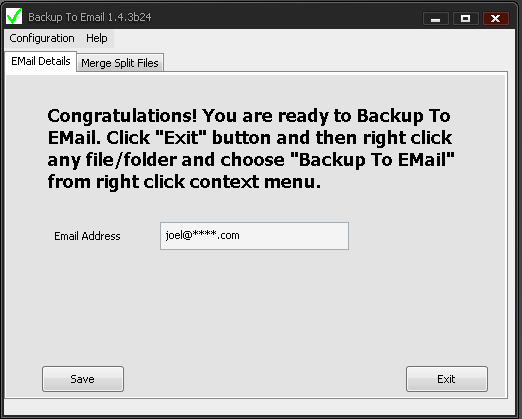 Key features of Backup To Email:
Integrates with Windows explorer
Management of multiple email accounts to backup to.
Right click on any file and click Send to> your email ID
No file upload limits but files larger than 10MB are split into slices of 10MB (default value is 10MB it's configurable)
If connection is disconnected at the middle of file transfer then resending the file, auto retry every 2 minutes, 100 auto retries