---
How to Recover Deleted Items from Microsoft Outlook 2003 and 2007
If you accidently deleted items like Emails, contacts, calendar, tasks, etc from your mailbox using Outlook, you can recover them as they are first transferred to the Deleted Items folder of that mailbox. But even if you delete them from the Deleted Items folder you can still recover them. This feature is enabled by default in Outlook 2007 but if you are using 2003 then you'll have to modify your system registry.
Enabling recovery of deleted items in Outlook 2003:
1. Start Registry Editor (Regedt32.exe).
2. Locate and click the following key in the registry:
HKEY_LOCAL_MACHINE\SOFTWARE\Microsoft\Exchange\Client\Options
3. On the Edit menu, click Add Value, and then add the following registry value:
Value name: DumpsterAlwaysOn
Data type: DWORD
Value data: 1
4. Close the Registry Editor.
Now when you start Microsoft Outlook 2003 you'll be able to see a new option- Recover Deleted Items in the tools menu.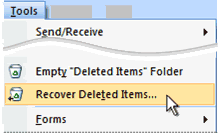 Recovering deleted items in Outlook 2007:
1. In the folder from where you deleted the item, or in the Deleted Items folder, click 2. Recover Deleted Items on the Tools menu. Click an item and then click Recover Selected Items
NOTE: If an item doesn't appear in the Recover Deleted Items dialog box then you can't recover it.
RELATED: Send SMS to Mobile phones using Outlook