---
How to Make your PC Shutdown in Less than 5seconds
My pc takes a long time to shutdown these days, there's a lot of junk in it. I used to format my C drive once in a month but it's been nearly 3 months since I formatted it. Nowadays I have to wait about two to three minutes for the pc to shutdown. It's really annoying especially if you got to go out. While browsing I came across a cool trick which will help to shut down your pc instantly. Here's how you do it: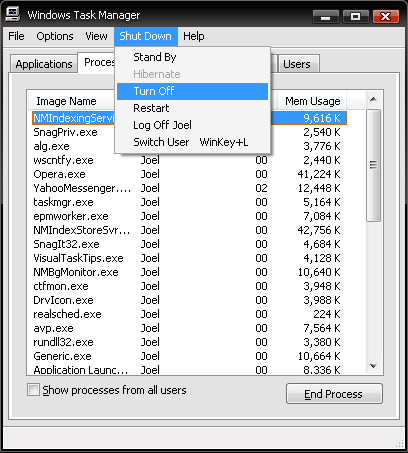 Press 'Ctrl+Alt+Del' to open the open the Windows Task Manager.
Now Click on 'Shutdown' on the top
Press and hold the 'Ctrl' key and Select 'Turn Off'
Your pc will shut down almost immediately. This process is pretty safe; it won't harm your pc.