---
Kodak Easy Share M853 8.2MP Digital Camera for Just $104
Here's a great deal of the day- a Kodak Easy Share M853 8.2MP Digital Camera for just $104.Following are the features of the camera:
8.2 MP
3X optical zoom lens
LCD 2.5 in. (6.4 cm) high resolution (154k pixels) indoor/outdoor color display
Storage 16 MB internal memory
1GB SD card (available until offer expires)
Auto focus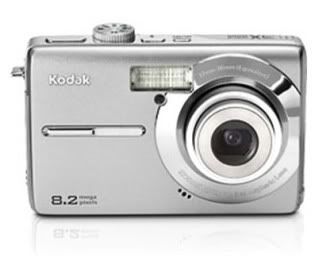 How to get the offer:
a) Click here to get the Coupon Code ("SAVECASH") and to go to product page.
b) Save $30.99 off instantly and add to your shopping cart for only $119
c) Click on the Add Promotional Code link at Shopping Cart and enter the coupon code in the 'Promotional Code' box and click on the 'Apply' button to redeem the extra $15 discount. [Expires on 03/01/2008]
d) Final Price: $149.99 – $30.99 – $15 = $104 + Free A-Data Speedy Series SD 1GB + Free Shipping*
e) Offer is valid till 1st March 08.
The actual price of the above Kodak Easy Share M853 8.2 Megapixel, 3X Optical Zoom, 2.5″ LCD Digital Camera is $149.99. You get a total discount of around $50.