---
How to Run Firefox 2 and Firefox 3 Simultaneously
Everyone likes to try new versions of softwares. But if the new software is in Beta stage then it's not advisable to uninstall the older stable version of the software to use the Beta version.
Firefox 3 is currently in Beta stage, if you would like to try it without uninstalling the older version, i.e. Firefox2 then you can do so by following the below steps:
1. First of all create a backup of your existing profile folder , i.e.- C:\Documents and Settings\[username]\Application Data\Mozilla\Firefox\Profiles\
2. Download Firefox 3 beta 3 from here.
3. Now run the setup.exe to install it. Make sure you install it to a folder different from the installation location of Firefox 2. You can do this by selecting Custom. Also make sure that you don't select to create shortcuts and Launch application after installation.
4. Now go to start> Run> cmd, this will start the command prompt, and enter "firefox -profilemanager -no-remote"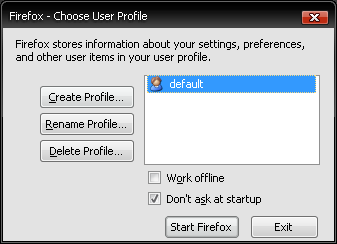 5. A new window will pop up, click new and create a new Profile named firefox3test.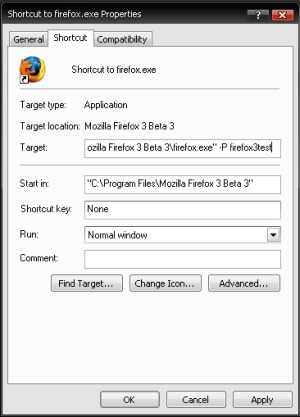 6. Now create a shortcut of firefox.exe in the Desktop. Right click on it to edit the shortcut's property and add " -P firefox3test" at the end (after the "" ends) in the command option. Now click Ok to save settings. This shortcut will run Firefox3.
7. To run Firefox 2 you need to go to the properties of the old shortcut,i.e. of Firefox2 and add –p default after "" followed by a space.
Now you can launch both versions by clicking on respective shortcuts.