---
5 PS3 Tricks you should not miss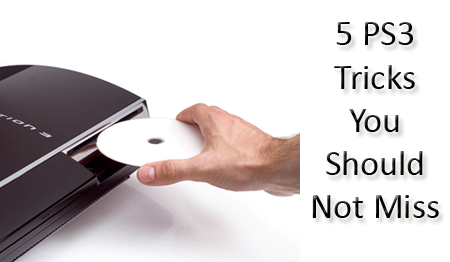 1. Make free video phone calls
To do this you need to have a USB headset and an EyeToy camera. Plug in both via USB then go to your Friends menu. Now choose any one of your friends you've signed up earlier and press Triangle. Select Start New Chat and type a message. Now they'll see your message and will see an option to accept your video chat. If your friend too has a camera and a headset then two windows will open, one will show yourself and the other will show your friend. You can invite a maximum of 6 friends by pressing Triangle.
2. Browsing through multiple Internet windows
Open the browser by going to Network and open any site. Now press Triangle to bring up the menu and choose 'Open in New Window'. Enter another URL and then do the same again. Repeat this until you have opened six windows. Now press L3, you'll now enter the multi-page mode. You can switch between pages by just moving the left stick. You can click L3 again to zoom in.
3. Make Your PS3 to show your files
You can put your Photos in a folder called Photos or videos in a folder called Videos and then insert the stick and go to the menu option you want (Photos, Music, Videos). Press Triangle to bring up a menu and choose Display All. This will show every file on the stick. This trick even works for a plugged-in iPod, but browsing through multi-folder structure is a bit difficult.
4. Check how much charge is left on your pad
The charge is usually shown while you are playing games but you can't check it on your pad itself. You can view the charge of your pad by just holding the PS button on any joypad, an indicator in the form of a battery will be shown on screen which will indicate the charge of your pad.
5. Download game saves
If you get stuck in a level or would like to skip a level in a game or maybe you don't like to fight with a boss then you can download game saves to solve your problem. You'll find hundreds game saves scattered all over the internet. Just Google for the game save and you'll find the one you wanted. Download the save and it will be stored in a 'PS3' folder that you can lift onto a USB stick and put into your PS3. Go to the Game menu, choose your stick and the game save you downloaded should be right there. Press Triangle to copy it to your hard drive.