---
5 Cool Valentine Gifts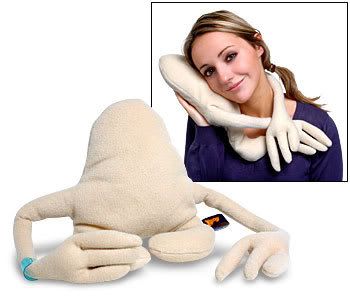 1. Klong:
Klong has no eyes, no nose, and no ears. Don't get scared I'm not speaking about an alien or a no face monster. Well, Klong is just a huggable cushion which has long arms and weighty little hands which drape along your neck. It is made from soft baby blanket wool and stuffed with snugly, squishy stuffing. This thing is really cute; I bet you won't stop hugging it once you get hold of it. This is a perfect valentine gift for your loved one. You can get one from here for around $50.

2. I Love You Toast:Well it's not a gift but it's a new and unique way to say 'I love you'. You can begin the day with a great start by embossing the words in your morning toast. It may sound a bit absurd but I gets it's cool. All you need to do is just take the toast embosser, press into a slice of bread, pop it in the toaster, and in a matter of moments you'll have a hot toast with 'I Love you' embossed on it. You can get the toast embosser from here for around $5.
3. Message Egg:The message egg is an outcome of cool and weird genetic engineering. An egg is placed in a can, when water is poured in it and kept for an hour, the egg hatches. Oh well, don't expect a chick to come out of it. But you can expect to see a plant coming out of it. Weird isn't it? Well there's another thing which will surprise you, there will be a message written on the bean! This is something really cool and I guess this will a great gift for your loved one. You can get one from here for around $10.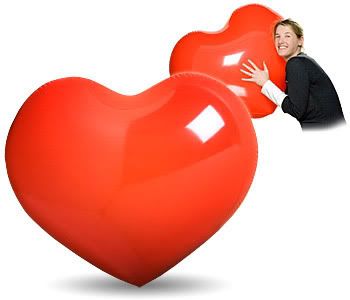 4. Giant Inflatable Heart:You can say I love you with flowers, words, etc, but saying it with a big heart is a bit silly but kind of cool too. You can give the heart to your loved one and say, "You know honey, I love you this big"; well it may turn out to be bad if she pokes your heart.
The heart is 74 x 66 x 43cm in size. You can get one from here for around $15.
5. Diamond Keyring:Every girl loves to have a diamond. Here's something really cool- a diamond key ring. The Diamond keyring has four keyrings coming off from it. And not to forget, it has a big fat acrylic diamond key fob. I guess it's a cool gift for your loved one; you can get one from here for around $15.