---
Flag Icons and Buttons for Your Site
If you have a website of your own and would like to enable different features for different nationalities then you might need these flag icons and buttons. You can also use them for making different pages for different nationalities.
Flag Button Devl Kit:
Here are four round button flags of- Germany, UK, US and Austria made in photoshop. You can add your own flag by just duplicating a layer group and pasting the new flag into the respective layer. You can download the .psd file here.(Right click and save target as.)
Flag icons:
There are about 220 flag icons in .PNG formats in 6 x 16, 24 x 24, 32 x 32, 48 x 48 sizes. You can download the flag pack here.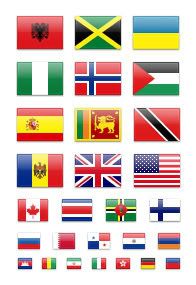 [via-Jhonlara]