---
Computer Mouse That Monitors Your Blood Pressure
Here's an awesome computer mouse which does a lot more than any other ordinary mouse. It monitors your blood pressure! It doesn't have any sort of complicated interface and is very much similar to that of a normal computer mouse. To measure your blood pressure all you need to do is just lift up a panel, the finger-cuff comes out, you stick your finger in, then you hit the computer screen where a 'scan now' kind of button comes up from the computer program when you're ready to take your blood pressure, and it literally will take your blood pressure and your pulse, and record it for that day and time.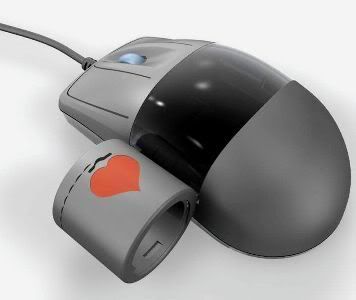 This mouse is really great as you can measure your blood pressure whenever you like and moreover it gives more accurate readings of a persons blood pressure level. It's mainly because the person is in a complete state of comfort when he is at home whereas a persons blood pressure is usually a little higher when it's taken in a physician's office as he is a little more stressed on nervous.
Sadly this mouse isn't currently available for purchase, but you will be able to get one within few months.
[via-bricktimes.micromediapubs]