---
Recycled Bicycle Chain Bowl
This great looking bowl is made from real bicycle chain. A bowl made from a bicycle chain? Sounds weird isn't it? Well you won't be able to have your soup with it but you can certainly keep your wallets, keys, and other stuff in it.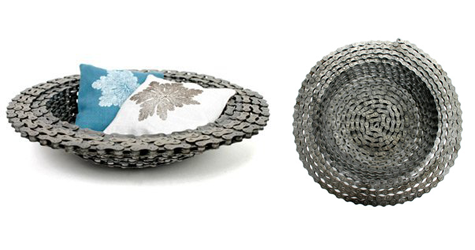 You gotta keep this thing away from glossy and scratch-susceptible surfaces.
This bowl is 10″ in diameter and 2 1/4″ tall. I guess this bowl would be an ideal Christmas gift for a biker. You can get one for $88 from elsewares.com.