---
How To Disable Windows XP Automatic Reboot
Sometimes when you download updates for Xp you might have noticed that some updates when installed ask you to restart your pc. A popup comes every 15-20 minutes asking you to restart your pc.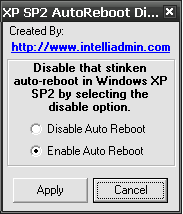 If you want to disable the automatic Xp restart feature you can do so by using Automatic reboot remover.
With this software you can disable as well as enable automatic reboot whenever you want.