---
iphone Theme For Nokia By Aerion
Here's an awesome iphone theme- iPhoneV for Nokia users. This theme is really awesome and very eye candy. Grab this theme and get the feel of an Apple iPhone on your Nokia phone. It is designed for Nokia Series 40 3rd Edition phones like Nokia 6288, Nokia 6300, Nokia 6270, Nokia 6233,etc. Sadly S60 phones aren't supported by this theme. Let's wait and watch I think Aerion will develop a S60 compatible theme very soon.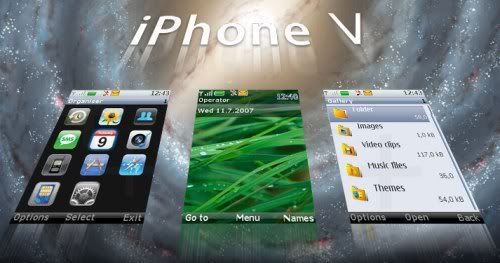 Installation instructions:
First download the iPhone.zip and copy the theme to your phone (internal memory would be more preferable) and apply it. There is a English version with a small lower menubar that fits nicely with the English characters. However, some languages with special characters need a slightly bigger lower menubar. So if you haven't set your Nokia OS to English and if your lower menubar isn't "high" enough, try the non-english version.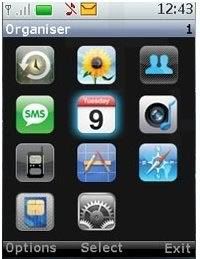 Now you will need to configure the settings as follows in order to get the real look:
1) Set the main menu view to "Grid" (in the main menu press the left selection key (options))
2) Disable "Active Standby" in "Settings->Display->Standby mode setting"
3) Set the "Font size" in "Contacts -> Settings" to "Large"
4) Set the "Contacts view" in "Contacts -> Settings" to "Name and image"
5) In order to display the date on the new wallpaper, enable "Show date" in "Settings->Time and Date->Date".