---
Use Powerscrap And The Change The Look Of Orkut And Myspace
Well some of you might already be knowing this, but if you dont here it is. With powerscrap you can change the whole look of Myspace and Orkut. You can send videos, multiple messages to your friends! The biggest advantage is that you can chat in chat rooms.
What you can do with powerscrap?
To send Multiple scraps – send messages to several friends
To add New Skins – Change the color of your Orkut
PowerScrap Radio
Orkut communities' Chat room
Send YouTube videos and media in your scrap.
One unified account for all Orkut profiles
Confidential Scraps
Scraps via SMS (coming soon)
Power Dating (coming soon)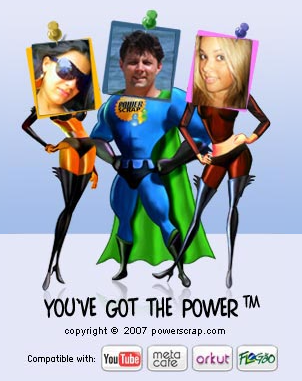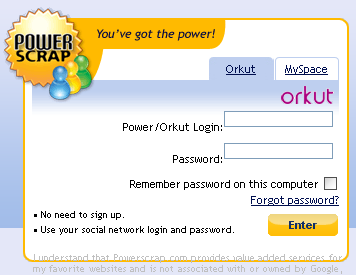 So how it works?
You should log into powerscrap with the same id that you use to log into orkut or myspace. Once you log in you'll be taken to your orkut homepage… But this time you won't see the same old orkut or myspace, it will be all new orkut with new features. Ain't that cool?

You can also try the powerscrap toolbar here. With powerscrap toolbar you can:
Access the main features offered by PowerScrap.com.
Send the same scrap to multiple friends with one click.
Search anywhere on the Internet and on Powerscrap.com.
Easily delete temporary internet files, cookies and histories.
Talk to other PowerScrap.com users through the chat system.
Enjoy quick access to PowerScrap Radio.
Interesting links that help you take advantage of social networking sites.