---
Optimize And Personalize Windows With MagicTweak 4.11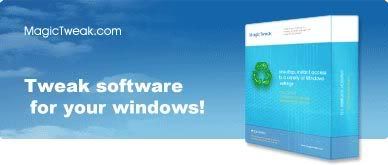 MagicTweak is a special program designed to optimize and personalize Microsoft Windows. It provides one-stop, instant access to a variety of Windows settings that can be altered for a friendlier Windows environment. You can tweak hundreds of hidden settings in Windows Vista/2003/XP/2000/Me/98.
Features:
The ability to tweak almost any aspect of Microsoft Windows Vista/2003/XP/2000/Me/98.
A user-friendly interface makes it easy for anyone to use MagicTweak.
Optimize your internet connection speed. Expand the functionality of Internet Explorer.
Enable several hidden performance options of Windows.
Customize your Windows look.
Disallow specific applications from running.
Hide items from Startmenu->Programs/Favorites/Desktop/Quick Launch Bar/Context Menu.
Includes multi-language support.
You can download the latest version here.