---
Solar Cars Race In Australia
Solar cars from around the world raced into the Australia outback on Sunday at speeds nearing 100 kilometres-per-hour at the start of the World Solar Challenge.
Nuon Solar from the Netherlands has won the solar car race thrice. He holds the race record of 29 hours and 11 minutes.
There were racers from 17 countries. They were warned of gusting desert winds, blazing temperatures, irate truck drivers and even kangaroos over three or four days before hopefully zooming across the finish line in the Southern Ocean port city of Adelaide. The vehicles had to go through places where the temperatures were extremely high, i.e.; around 50*C. The racing was possible only during the day and hence the racers had to camp where ever they reach at night.There were other cars which included Gasoline/electric hybrids and ethanol production cars which were racing in separate categories.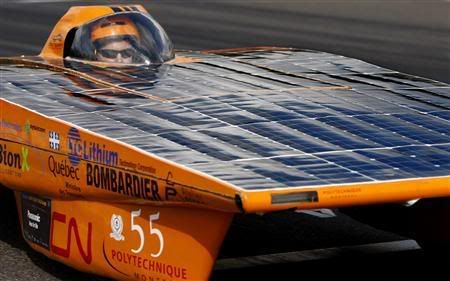 [Via-Reuters]